What makes PPE, uniforms, and workwear different from regular clothing? It's often made from similar materials after all. But there is one key difference. And in a world pushing to become as sustainable as possible, it's a problem that needs our latest commercial added value service to solve it.
In a world of fast fashion, 350,000 tonnes of used but still wearable clothing goes into landfill in the UK every year. But this represents only 30% of all the unwanted clothing, with the rest often sold or given to charity. For PPE, workwear, and corporate uniforms however, the straight-to-landfill figure is closer to 90%.

That's a staggering difference. But why does it happen?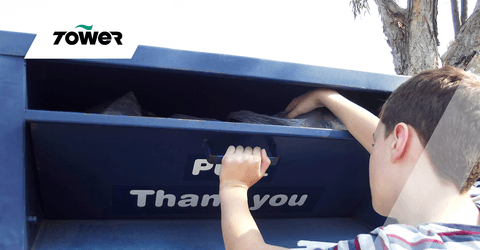 What happens to outdated or redundant workwear, uniforms, and PPE?
There are several reasons why workwear can become outdated or redundant. If an employee leaves the company for instance, the clothing or PPE needs replacing to keep up to standard, or perhaps your company has just rebranded and needs to completely replace all their workwear and uniforms.
Employees should at this point take responsibility. But often, the employee is left to take the next course of action. And unlike normal clothing, they can't give workwear to a charity shop, as they will likely not take it due to it being unsaleable. And listing on online marketplaces like eBay poses a security risk by leaving you open to fraudulent representation of your company by the new wearer.
It's no wonder that employees end up with little choice but to drop it all in their nearest bin.
Taking responsibility for outdated textiles and PPE doesn't just keep it out of landfill, it helps protect your brand too. That's why we're helping employers act quickly and stop abdicating responsibility for outdated workwear and PPE with our commercial added value ZeroWaste Textile Destruction & Recycling Service.
What is the ZeroWaste Textile Destruction & Recycling Service?
We put sustainability at the forefront when we talk to customers and develop innovative solutions. And our commercial added value ZeroWaste Service is a zero-landfill solution that makes a difference.
We'll drop a unit (whichever size you need) at your workplace with sacks and cable ties, so you can easily put textiles and PPE into it. We then collect the sacks from your unit either weekly, fortnightly, or monthly. The sacks are then taken to a secure facility, before being fully shredded (to protect your brand) and recycled.
What happens to the old workwear, uniforms, and PPE after we collect it? Read our infographic below to discover the process in full and to see our waste hierarchy, which explains what your old textiles and PPE become once it is destroyed and recycled.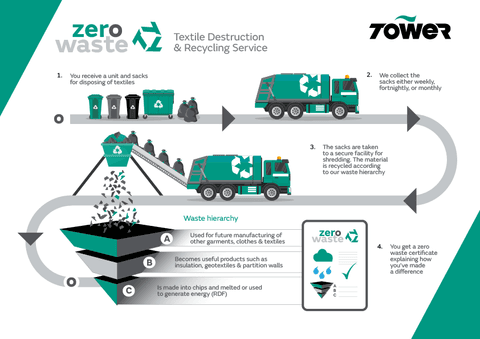 Our ZeroWaste Service also delivers all these great benefits:
We provide you with a zero-landfill, sustainable end-of-life process for all your textiles and PPE including branded workwear and uniforms
Protection of your brand from fraudulent use of your company name and uniform with guaranteed confidentiality and maximum security from collection to disposal
You'll receive a certificate of destruction stating how many kilograms have been collected, and how much water, CO2, and landfill space has been saved by your responsible action
You also get an Environmental Impact Statement once the material has been recycled, providing an overview of how the old material has been used to complete your audit trails
If you want to find out more about our commercial added value ZeroWaste Textile Destruction & Recycling Service and how it can benefit your business, call us today on 01202 718000 or fill out the contact form below.