A growing sector
SSE plans to invest £40bn in clean energy projects and networks over the next decade, leading to an increased need for maintenance, repair, and operational staff, as well as a reliable supply of related equipment and PPE.

The emphasis on transitioning to cleaner and more sustainable energy sources has driven construction activities for wind farms, solar parks, and hydroelectric projects. Since 2022, there have been 1836 new planning submissions for renewable energy projects, with solar projects comprising the majority.
With such large-scale endeavours, Tower supports companies in several ways - with safety the chief concern. We ensure we have access to products that comply with industry regulations and standards, to help support our customers' HSSE (Health, Safety, Security, and Environment) activities and requirements. This all contributes to a culture of safety and best practice.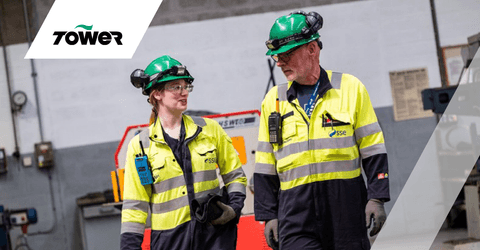 Unique challenges
In 2020, the rate of lost time through injuries in UK offshore renewables was four times higher than in oil and gas. This makes our role as a trusted expert and safety partner vital in the renewables sector. We also lead in product development for FR arc products, including a highly protective lightweight FR arc garment for our FireBear range.

Working at height during wind turbine construction and maintenance presents specific risks, where our expertise in safety harnesses and tool tethering is crucial. Offshore turbines require integrated flotation and survival suits that maintain FR arc protection when working over water.
The availability and cost of skilled labour are likely to be major obstacles to the growth of renewable energy projects, exacerbated by the government's decision to end the moratorium on new onshore wind farms.
Globally, there is high demand for renewable energy workers, and the UK needs to create a 400,000-strong skilled energy workforce over the next three decades to achieve net-zero goals. We are committed to supplying the appropriate workwear and equipment to support this workforce and the estimated £2.5bn PPE market.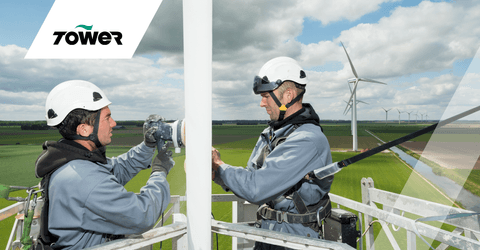 Choosing the right solutions
Upgrading ports to accommodate taller turbines and connecting new energy projects to the outdated National Grid infrastructure present significant challenges that may take up to 25 years to address.
To support the renewables industry and its workforce, we source most of our technical workwear from manufacturers located in or near the UK. Our flexibility, contingency plans, and efficient logistics helped us navigate challenges posed by the pandemic.
We recognise that renewables are still a relatively new sector that requires unique applications and a modern PPE response. We know the mix of hazards involved and can help navigate challenges by providing a complete range of PPE and by using our expert understanding of all work environments.