Global trade thrives on the vital contributions of the maritime industry, and the workers aboard the ships or in the port are the force behind such an efficient industry. However, if you aren't properly protecting those employees, disaster can strike, which in turn can set back the well-oiled machine.
At Tower Supplies, we have decades of experience in providing marine PPE (and much more) to this industry, so we understand the importance of the safety technical requirements when working in marine and shipping.
You can find out more about what we do for the marine industry here.
In this blog, we'll be focussing on technical safety, and how marine PPE can prevent incidents from happening.
Back to basics
What is technical safety and what does it involve?
First, we should differentiate between technical safety and process safety.

Technical safety mitigates personal injuries and incidents (e.g. broken bones and cuts), while process safety mitigated larger incidents (e.g. fires and explosions).
This blog will speak first and foremost on technical safety.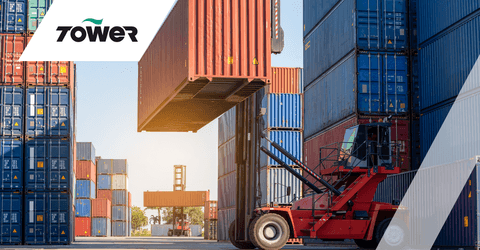 What's needed?
Understanding the technical requirements faced in the marine and shipping industry
There are a variety of technical risks that every worker faces, depending on their role. Therefore, each role will need different technical requirements, and will therefore need to be assessed on an individual basis. This is crucial, as a sweeping approach to marine PPE and equipment will not provide correct health and safety, and lives could be put at risk.
We've pulled together just a few of the risks that are likely to be present when at work in the marine and shipping industry:
Operating machinery
When operating machinery, there are many technical risks that need to be taken into consideration. These include:
Loose clothing or jewellery that could interact with the machinery
Incorrect PPE such as open-toed shoes or lack of gloves
Incorrect training or understanding of regulations
Machines that are not labelled, supplied with correct documentation, or maintained to a high standard
Implementing procedures, marine PPE and training in order to avoid these technical risks is easy. It's just a matter of prioritising the health and safety of employees.
By providing appropriate uniform and PPE such as shirts, gloves, and hair nets, many risks will be avoided. On top of this, the buddy system is good practice when operating machinery and well-maintained machines are key.
Browse our uniform and workwear here.
Lifting and loading from bays
Whether lifting manually or through the use of cranes, slings, hoists, forklifts, elevators, there are many risks that come with the task.
Incorrect PPE such as open-toes shoes
Cuts and bone breaks/crushing
Incorrect lifting equipment
Lack of training on lifting equipment
With 565,000 working people sustaining an injury at work in 2021/2 (according to the Labour Force Survey), it's clear that work accidents are still all too common.
Correct PPE and uniform is necessary when performing lifting or unloading in order to prevent injury to skin or body parts, and lifting equipment should be provided if needed. Training and well-maintained equipment is also necessary, with broken or old equipment being replaced regularly.
Activity specific tasks (welding, driving, etc.)
For activity specific tasks, unique technical safety requirements will be needed and each task should be assessed individually.
Different tasks will require different PPE items and equipment. For example, if working at heights, harnesses and helmets will be required, yet if performing welding, goggles and gloves would be of higher importance.
Browse our PPE offerings here.
Space specific tasks
Space specific tasks include working at heights, in confined spaces, or even in potentially explosive environments.
Similarly to activity specific tasks, each space will need different technical requirements. Whether this is PPE, training, or equipment, the requirements are likely to differ depending on the space and task at hand.
If you're not sure what requirements your space will need, we can help. Get in touch to chat to one of our experienced professionals about your working space.
Trusted experts
How can Tower help you stay compliant?
With extensive experience, we're committed to helping to protect people in port and at sea with best-in-class PPE, workwear and safety equipment.
At Tower Supplies, we cover everything from protective clothing to welding helmets. So whatever it is you need, we've got it.
We understand that every workplace and task is different, which is why we go beyond just supplying - we consult on what and how you could be buying better to enhance safety in dangerous working environments.
We have the know-how to source and supply the best safety products available. So that you can keep your people safe and ensure they're working at their very best. Plus, our fast and efficient delivery service enables you to have what you need the very next day.
Contact us today on 01202 718000 if you'd like to work with a marine PPE supplier you can trust.